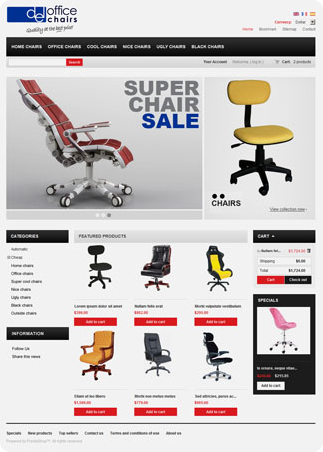 Creating and managing an e-commerce platform is undoubtedly a positive step towards a successful online business. In fact it acts as the foundation of any online business. And to make progress as well as increase profitability it is necessary to ensure that your e-commerce platform is based on the latest technology. When you sign us on, you have nothing to worry about. We offer you with customizable yet standard features apart from easy functionality. We first consult our clients regarding their requirements and design an e-commerce platform accordingly to suit customer's brand as well as their goals. We are backed by a core team of world class e-commerce website designers.
At Quetzal we believe in exceeding the customer expectation. Our custom web design services cater to all kinds of clientele. Whether you need a single web page or a multipage website we can deliver excellent quality and uncompromised services. You can rely on our seasoned team of web designers and developers to create a customer focused web presence that gives a clean and concise profile of your company. Our e-commerce websites utilize the best tools to create the ultimate shopping experience for your clients.
In addition to the basic web design and development services we also offer ancillary services like logo & banner design, web maintenance and client management services according to the client's requirements.
For more specific information, check out our recent blog posts.
Enhancing The Experience of Shopping
Magento or ZenCart are the two most obvious choices for starting your own eCommerce web page.
Whether you chose Magento, ZenCart or any other platform we customize our offering keeping SEO in mind. You get a eCommerec website optimized for popular and customized keywords, detailed product titles and descriptions and a properly catalogued product list. This makes it very easy for the target audience to find your website from among million of others competing for the same target customers.
Magento Carts: This is one platform that not only helps online suppliers to lure more customers but also helps them in developing a customer friendly online shopping experience. At Quetzal we offer professional Magento developer services for multiple versions suited to the scale of the organisation and operations.
Magento makes buying easy with its amazing search capabilities and is preferred by online shoppers because it offers a wide range of distribution and transaction options. The number of clicks conversion rate is very high for Magento websites.
Zen Cart Customization: Zen Cart posses the edge of personalization as it allows the modification of periodic styles. However handling personalized design configurations involves technical knowledge. Our Zen Cart experts help you maintain your website through the main dashboard which makes it very easy. We also offer comprehensive website management services for clients who have significant time restrictions and prefer outsourcing the management of their websites.
Moreover we also give you the freedom of choice; you can choose the level of control you require over the back end management control panel.
For organizations of a smaller segment, we offer Zen Cart design services at amazingly affordable rates. Our design experts can help you choose the optimum design that gives your website a professional appeal.
What More! Our developers will also help you with effective set up of the purchasing applications which requires thorough knowledge of PHP and MySQL.
Our Edge!

Developing a Magento or ZenCart shopping cart ensures smooth sailing beginning in the world of eCommerce however developing one is not the end of the story when it comes to creating a strong online business presence. There are many non-technical issues involved in the successful deployment of e-Commerec website after the website is launched.